The Altemus Company History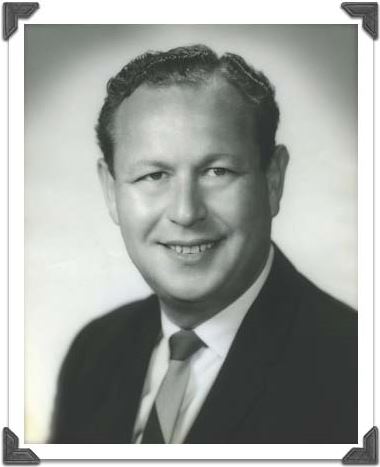 Jules B. Altemus
Established The Altemus Company in 1946
and Founding Member of the
AIR Commercial Real Estate Association
Established in 1946, The Altemus Company is a dynamic Commercial Real Estate Brokerage Firm with a well-established quality reputation specializing in leasing, sub-leasing, investment sales, owner-user sales, property management and investment syndication of Commercial and Industrial Properties. For over 70 years, The Altemus Company has been offering a high level of professionalism, dedicated personal service and ethical commitment. These principles are the foundation of our business philosophy and are manifested by each and every individual involved with the organization. While historically, the company's focus has been on industrial product, over the last 25 years, the company has crossed over into the commercial world as well, as industrial buildings on the Westside have been transformed to alternative uses (i.e. office, retail, flex uses, etc.)

In addition, The Altemus Company is one of the founding members of the A.I.R. Commercial Real Estate Association. This organization was established in 1960 by a group of commercial brokers who met and agreed that a cooperative, professional trade organization would facilitate transactions for both the public and broker alike. The growth of A.I.R. has been explosive since that initial meeting, not just in membership, but also in the scope of the organization, the services provided and the sheer volume of square footage processed through the information of The AIR Commercial Property Multiple. The lease forms, purchase forms and addenda developed and refined by the A.I.R. have become standards in the industry, receiving nationwide acceptance by both Buyers, Sellers, Landlords, Tenants and their Attorneys.
As AIR's first President, Jules B. Altemus had an abiding concern for the development of education programs and materials in the field of commercial real estate courses, as well as the development of instruction materials. He was also instrumental in establishing and carrying on the AIR Scholarship Program. The annual AIR Golf Classic generates funds for the AIR ~ Jules B. Altemus Scholarship Fund, founded in memory of Jules B. Altemus. Each year the Scholarship Fund supports outstanding students at local area colleges, universities and graduate schools specializing in commercial real estate.

For over 70 years, The Altemus Company has represented thousands of Clients with uses ranging from manufacturing and distribution, to general and creative office, to retail in locations ranging from the Westside to the South Bay. With each new completed transaction comes an even greater understanding of current market dynamics. It is this extensive market knowledge combined with our continuing commitment to personal service which has and will continue to provide for a truly positive experience for our Clients.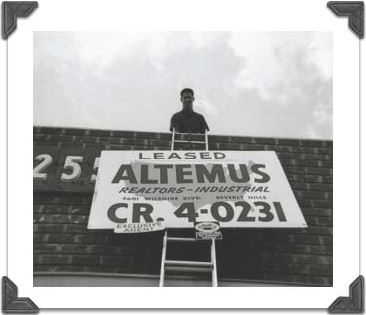 David E. Altemus
Hanging Altemus Signs for his Father back in the 1960's